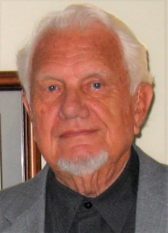 The Asia-Pacific Region joins with missionary Lynn Shmidt in mourning the passing of Lynn's father, Donald. Donald Shmidt went to be with the Lord on January 5, 2020. He was 95 years old.
Donald Shmidt was born on February 1, 1924, in Romeo, Michigan. He married Glenna Joy Curtis in 1948, and they were married for 68 years until her passing in 2016.
Having served in the United States Army during World War II, Don was honorably discharged and returned to the United States. He earned a bachelor's degree in chemical engineering through Michigan State University and worked for Dow Chemical Co. in Midland, Michigan, Findlay, Ohio, and Granville, Ohio. He also was a faithful servant of the Kingdom of God, donating time and money to missions projects, including Kentucky Mountain Bible College, and churches in Africa and Mexico. He also served in his local church and on temporary missions trips.
He is survived by four sons: Ted (Mary Ann) Shmidt, Lynn (Shearon) Shmidt, Creston (Sharon) Shmidt, and Berhane (Alem) Ghaim; one daughter, Tammy (Gary) McRill; his second wife, Lucille Shmidt; 10 grandchildren; 21 great-grandchildren; and 2 great-great-grandchildren. He was preceded in death by his first wife Glenna, his parents Arthur and Ruth Shmidt, and his brother and sister-in-law, Jerry (Shirley) Shmidt.
The family has asked that in lieu of flowers, contributions can be made to the Timothy Scholarship at the Kentucky Mountain Bible College. Please continue to pray for the Shmidt family in this time of grieving.