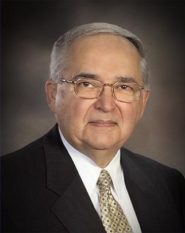 General Superintendent Emeritus Paul Cunningham Jr. passed away 18 July 2020 at age 82.
"Dr. Paul Cunningham was a remarkable man — the epitome of a Christian leader, preacher, churchman, friend, and mentor," said General Superintendent Fili Chambo. "Simply put, he believed God, and that belief informed every aspect of his life and ministry. The resulting integrity of his life lent authority to his proclamation of the gospel message and consequently his influence locally and globally, both in and outside the Church."
Cunningham was born 27 August 1937 in Chicago, Illinois, to Paul Sr. and Naomi Cunningham. His family attended Chicago First Church of the Nazarene, where he accepted Christ at age 12. During high school, he met Connie Seaman, whom he later married on 23 May 1960. Paul graduated from Olivet Nazarene University with a history degree.
In 1961, the Cunninghams moved to Kansas City, Missouri, so Paul could attend Nazarene Theological Seminary. Upon graduating from NTS in 1964, Paul became the pastor of Olathe Church of the Nazarene, a small church with only 46 members that had been through four pastors in five years. Paul served there for nearly 30 years, and membership grew to over 3,000 by 1993.
A month after accepting the pastorate in Olathe, Paul attended the 1964 General Assembly in Portland, Oregon. He listened as the assembly voted to start two new liberal arts colleges and felt an urge from the Lord to start one in Olathe. He approached a local leader, R.R. Osborne, and together they convinced a group of business leaders to donate land and help secure local support. The land became MidAmerica Nazarene College (now University), which welcomed its first students in 1968.
From 1968 to 1993, Paul served as the spiritual shepherd to students, faculty, staff, and many residents of the area. He and his wife welcomed students to their home, provided guidance, and influenced thousands for Christ.
"Paul Cunningham was a true shepherd servant whose passion for his Lord was reflected in his love for the church, people around the world, and a vision that birthed our university," said MNU President David Spittal. "We extend our condolences to his wife, Connie, and family and share the gratitude of the university family and all whose lives have been changed by his leadership, influence, and legacy of faithful service."
At the 23rd General Assembly in 1993, Paul was elected to the Board of General Superintendents. Initially, he wrestled with the idea of leaving College Church, and he took the night to pray about the election before accepting.
During his time as a general superintendent, he and Connie continued to work as a team. Connie was one of the first general superintendent spouses to travel alongside her husband.
In a Holiness Today article honoring to his service as a general superintendent, Frank Moore wrote, "Paul Cunningham has served God's kingdom well and led the Church of the Nazarene decisively as a member of the Board of General Superintendents. His passion for the Great Commission and lost souls, fueled by the expanded vision of that first missions offering, has challenged the global church to action."
Paul retired at the 2009 General Assembly after 16 years of service on the Board of General Superintendents and 45 years of ministry.
Paul is survived by his wife, Connie Cunningham, daughters Lori Wegley and Connie Jo Mason, son, Paul Mark Cunningham, sister Joanne Carlson, seven grandchildren, and three great-grandchildren.
A celebration of life will take place at 3 p.m. on 30 August 2020 at College Church of the Nazarene in Olathe, Kansas, USA.
This article was originally published in Nazarene News.