Asia-Pacific Region:  The Asia-Pacific Region Communications and Compassionate Ministries offices are closely monitoring the development of yet another storm in the Western Pacific.
**Update**  3 reported dead and more than 350 injured in Taiwan while Japan reported widespread loss of power in the southernmost islands. China reported travel was halted along the coast with schools closed according to The Weather Channel.
According to Weather Underground's Meteorology Department, tropical Storm Dujuan, located 620 miles southeast of Okinawa in Japan's Ryukyu Islands (Saturday morning, 25-Sept-15, 00:00 UTC) had the potential to quickly intensify to a category 4 typhoon by the next week.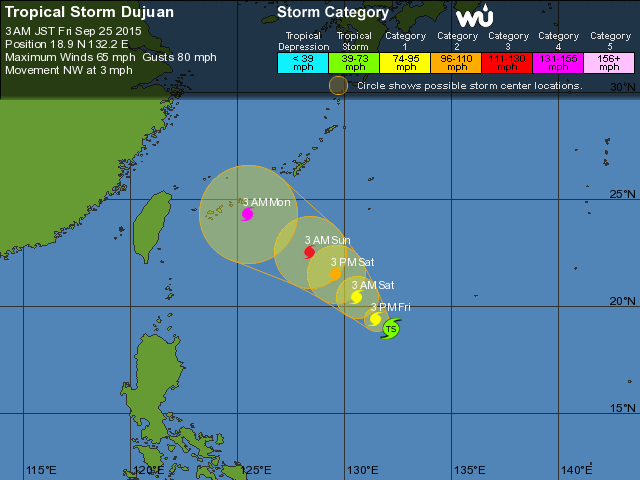 The  forecast track showed the center of Dujuan across the southern islands of Japan and just north of Taiwan.  The spiral banding of the storm  drew moisture across the northern Philippines and brought significant rain to Japan, Taiwan, and southeast China. There are 42 Nazarene churches in Taiwan, and 65 in Japan.
The AP Regional Office will continue to keep a close eye on this storm.
— Feature Image: www.digital-typhoon.org