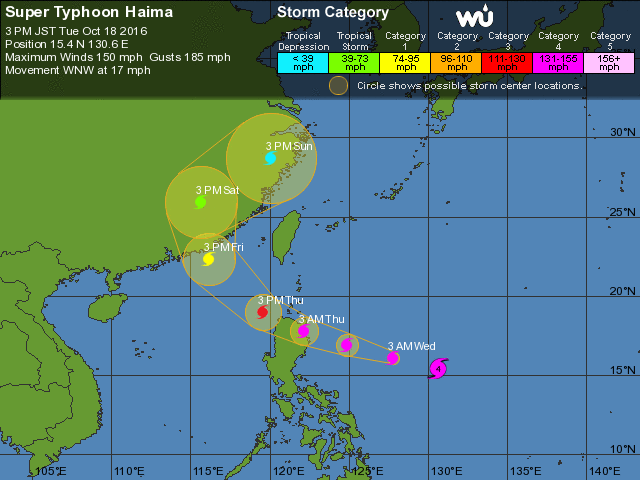 Manila, Philippines:  Typhoon Sarika, which passed over the Philippines on Sunday, left at least two dead and at the peak of the storm, 240,000 people without power.  Now another Super Typhoon (in less than 7 days) is rapidly building off the eastern shores of the Philippines.
Super Typhoon Haima (known now as Lawin in the Philippines), is currently a Category 4 storm, and is anticipated to reach Category 5 status by the time it makes landfall Wednesday afternoon / evening – local time. Haima is forecast to track over the northern part of Luzon in the northern Philippines.
A Category 5 storm is rated as having sustained winds of more than 156 mph (251 kph).
Click here for live storm tracking images.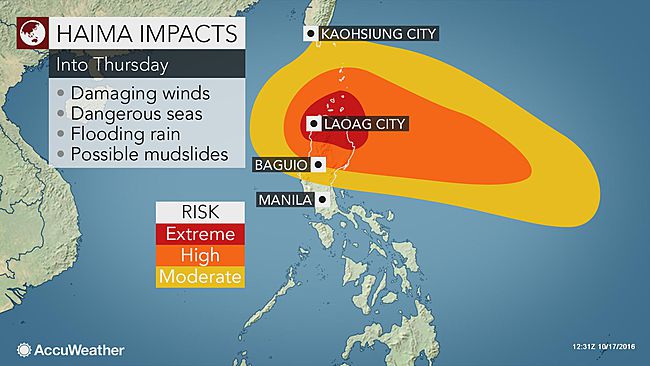 Please commit to keep the people of the Philippines and the Pacific Islands in your prayers as we come through the end of the 2016 typhoon season.  Pray specifically for protection as Haima (Lawin) makes landfall.
Remembering: Super Typhoon Yolanda, strongest recorded storm in history to make landfall, hit Philippines November 7, 2013.