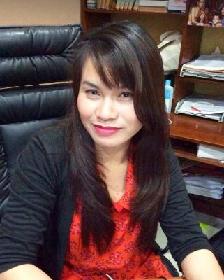 Manila, Philippines: In less than a month, Asia-Pacific Nazarene Theological Seminary (APNTS) student Christine Rosemel Dialing will take a deeper step to follow God's call to missions: she is set to go to Thailand for a short-term assignment, early January 2017.
Christine, who is enrolled under APNTS's Intercultural Studies Program directed by Dr. Lynn Shmidt, will undergo an initial 2-month internship as part of her requirements to complete the course. She will be working with students at Maetang Tribal Children's Home (MTCH) and at the School of Promise in Chiang Mai. Christine has long felt God calling her to missionary service, and this initial assignment will hopefully open some long term possibilities for her.
Please pray for traveling mercies for Christine as she steps out of her comfort zone, away from her home country, family and friends. We pray that the Lord bless her and her ministry, that the children in MTCH and School of Promise see and grow closer to the Lord through her. May God show her further the path to what she is called to do.
-Submitted by: Dave Hane
* Feature photo: Christine (second from left) with Drs. Bruce and Peggy Oldham and APNTS students
Click here to get to know Christine more and her call to missions!