Jubilee Thanga is a pastor, educator, writer, and administrator in the Church of the Nazarene in Myanmar. Currently, he is serving as the National Director at Hi Kidz Myanmar Foundation. This foundation has an official partnership with the Myanmar districts and is legally registered with the government. This ministry focuses on bringing children to Jesus Christ, disciplining them, and teaching them Biblical values.
Jubilee believes that through evangelism and discipleship, the nation of Myanmar will be positively transformed by the power of God. He states, "It's all about discipleship: disciplining the nation by disciplining children. We form a dynamic connection between people, regardless of different denominations and ethnicities, listening to one another, and learning from one another."
In 2009, Pastor Jubliee partnered with Nazarene Compassionate Ministries to begin a children's outreach at Yangon First Church. Jubilee recruited the youths from his local church and began to reach out to children in the nearby slum areas. He then reached out even farther, recruiting students from what was then South East Asia Nazarene Bible College to hold "salvation camps." He and about twenty students traveled from village to village. "Anywhere there was a Nazarene church, we would hold camp at the church. Where there was no Nazarene church, we ran a community camp."
What began as a local ministry has continued to grow beyond the city of Yangon. Today, Hi Kidz Myanmar works to mobilize Christian churches and communities to engage in holistic child development. Over 800 volunteers are involved in activities, such as facilitating training for children workers, holding one-day seminars for parents and church leaders, running children's camps, holding 407 weekly discipleship clubs for over 20,000 children, facilitating children's worker's conferences, children's meetings, and many other ministries. This year, they plan to reach two million children. For Jubilee, this is only the beginning. God has given him the vision to reach twenty million of Myanmar's children by 2030. He is convinced that "the ultimate goal of children ministry is to restore the image of God in humanity."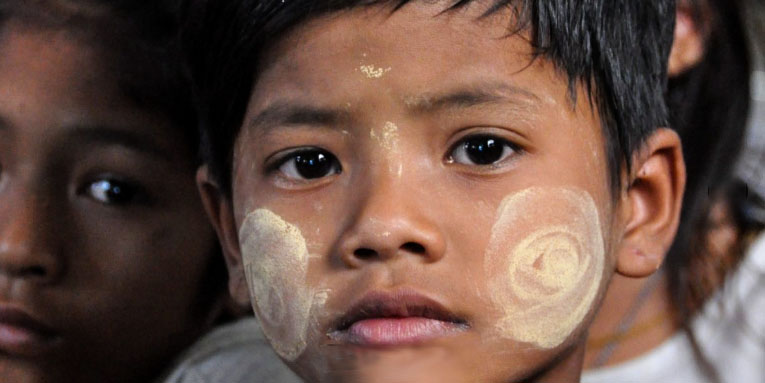 Amid the Covid-19 pandemic, Hi-Kidz Myanmar has reached about 50,000 kids with the gospel story. Hi Kidz Myanmar also distributed 15,000 hand-made masks and 35,000 home-made hand sanitizers to children in some of the neediest regions of Myanmar. Many individuals, families, and churches came together to carry out this mission.
Last year, Jubilee was part of a group that surveyed Myanmar to learn about children's ministry throughout the country. They discovered that the country has about 16,500 churches. Each local church can reach more than one hundred kids annually. He said, "We are asking every Christian family to reach and disciple at least two kids every year."
Rev. Jubilee Thanga is passionate about discipleship. He frequently states, "we don't need offices or ministry centers because God has prepared many churches' properties to be used. But we need a heart for God. If we have a heart for God and a heart for children, we can reach this nation for Christ." It is this passion that drives him forward with the goal of reaching an entire generation of children for Christ.