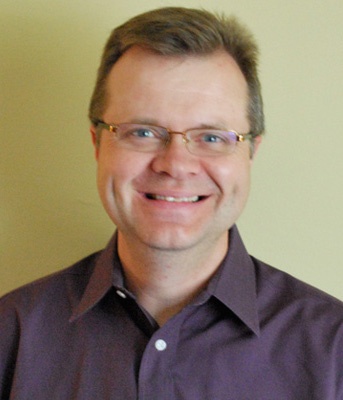 Global Ministry Center: Charles Christian, a Nazarene pastor and educator, was chosen as managing editor for both Grace & Peace and Holiness Today magazines.
"Charles Christian is a perfect fit for his assignment," said Frank Moore, general editor for the Church of the Nazarene. "We are thankful that God's providence has brought someone to this task who has a terminal degree in religion, extensive pastoral experience, and nearly two decades of instruction in a university classroom."
Christian has served as a pastor in the Church of the Nazarene for more than 25 years, most recently at the Cameron, Missouri, Church of the Nazarene. Previous pastorates include North Dallas, Texas; Canby Chapel and Oregon City, Oregon; Seattle North, Washington, and University in Kent, Ohio.
He has also taught systematic and moral theology at a variety of colleges, universities, and seminaries, including Nazarene Theological Seminary and Nazarene Bible College. Christian will continue to teach as an adjunct professor of theology at MidAmerica Nazarene University.
In addition to overseeing the two magazines, Christian will serve as strategic communications coordinator for the USA/Canada Region.
"Charles Christian's experiences in the local church, district church, and academia have prepared him well for this role," said Bob Broadbooks, USA/Canada regional director. "We are pleased to welcome him to the USA/Canada Regional Office."
Christian, who began his role 1 May, will help facilitate messaging for the USA/Canada Region.
"I've already begun developing relationships with various offices in USA/Canada, and I hope to assist them in making sure our message as the USA/Canada Region is in harmony and is clear," he said.
Established in 2010 by the USA/Canada Regional Office, Grace & Peace Magazine aims to increase ministry effectiveness, stimulate theological and missional reflection, and promote healthy dialogue among its print and online readership.
"Grace & Peace has been in a bit of a hiatus, and so relaunching that in the fall is a priority," Christian said. "It will be in a slightly different format but will continue its emphasis on equipping clergy in USA/Canada."
Holiness Today, previously known as the Herald of Holiness, has served as a connection point for Nazarenes and a source of inspiration for everyday faith since 1912.
"Holiness Today has been a strong voice in the Church of the Nazarene for over a hundred years, so I think just continuing that legacy and continuing to expand digitally is a big deal for Holiness Today," Christian said.
Christian has written more than two dozen articles for various publications, including Holiness Today and Grace & Peace Magazine, in addition to his book, Ethics in Christian Ministry.
"I love getting to know people and hearing their stories, and now I get to help them tell their stories," Christian said. "That's the most exciting part of the job for me — helping people tell their stories."
He holds a Bachelor of Business Administration from Southern Methodist University, a Master of Divinity from Southwestern Baptist Theological Seminary, and a Doctor of Philosophy from the University of South Africa.
Charles and his wife, Edna, have two sons, Jacob and Zach.