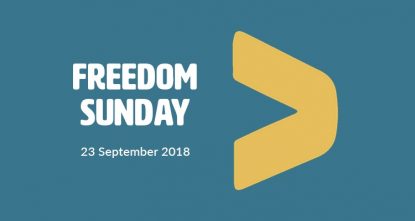 For the past four years, hundreds of churches have taken a Sunday to gather in specific prayer to lift up the human trafficking crisis and its victims. This year, Nazarene congregations around the world are uniting against human trafficking on Sunday, September 23, what is being called "Freedom Sunday."
The Church of the Nazarene is encouraging congregations to participate in this international day of prayer for human trafficking. If your church is unable to participate on this specific Sunday, we encourage you to schedule your own Freedom Sunday to dedicate to prayer for the end of modern day slavery.
There are free resources available for churches interested in incorporating Freedom Sunday to their worship service.