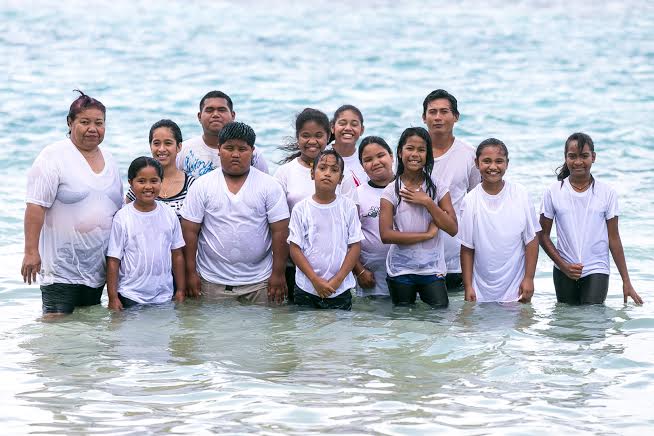 Guam:  We recently received this thrilling report from Larry Cornett of our Guam First Church of the Nazarene.  Let's celebrate with him.
The beautiful Pacific Ocean in Guam is a perfect setting for water baptism. On Sunday, April 6, we baptized another 13 "Born Again" Believers bringing the number to 32 over the past 10 months.  We certainly give all the credit to Jesus Christ as He is our example. Following Jesus' example and His disciples in baptism and the teaching from our Sunday School and preaching on the sacrament of Baptism is also helpful. We do not baptize people until we have the assurance that they are "Born Again" Christians.
As pastor I meet with the candidates during the Sunday School hour prior to our service. I give them a short version of the Gospel Message and ask them to pray the Sinners Prayer after me to accept Jesus as their Savior and Lord. After the prayer I asked those that prayed that prayer for the first time to raise their hands. Two of our teenagers and several of our children raised their hands. Praise the Lord. I asked each one to give a testimony before being baptized. Many said; "I want to be a Jesus Follower." All the Glory goes to Jesus as He is calling more children, teens, and adults to Follow Him.
Our Middle Elementary Sunday School Teacher, Agnes Par has been teaching her students about Baptism for the last month. I guess that teaching has caught on as we see the teens and adults also showing a great interest in being baptized.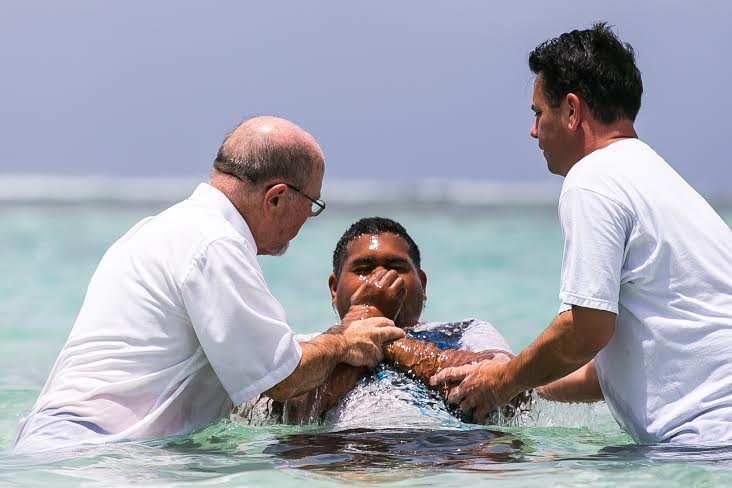 One of our adults that we baptized gave this testimony. "I felt like I left something in the water and I came up feeling clean and full of joy and love for Jesus."  That thing that she left in the water was her sins, as we had earlier sung about, "What can wash away my sins, nothing but the blood of Jesus."  
–Submission
Larry Cornett – Guam First Church of the Nazarene
Follow them on Facebook