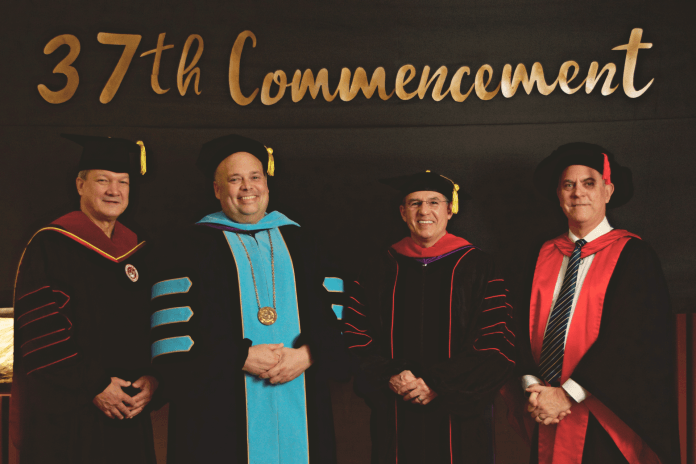 Taytay Rizal, Philippines: It is a glorious day at Asia-Pacific Nazarene Theological Seminary when after two years of doing virtual commencement, Asia-Pacific Nazarene Theological Seminary was able to hold its first hybrid commencement exercises last May 7, 2022, at the Cobb Worship Center. Dr. Larry Bollinger was physically present as well as the other leaders – Dr. Mark Louw, Dr. David Graves, and Dr. Bruce Allder.
The Commencement Speaker was Dr. Melba Maggay, a well-known Evangelical Scholar and the President of the Institute of Studies in Asian Church and Cultures. She urged and challenged the graduates to remain vigilant in politics and active in society. 
I think we need to understand that governance affects millions of lives. We see that in this country, we see that in Myanmar, everything gets broken when governance is broken. And we have a duty as Christians. We say, "We are salt and light", where? In the churches? No! In society! That is where we are supposed to be salt and light."

Dr. Melba Maggay
The Graduates
Another exciting part of this celebration was the joy of also seeing graduates from 2020 and 2021. Also, some students were able to fly to Manila to attend the graduation. Among those is Lisa Lehman, who is currently serving as Asia-Pacific Regional Literature Coordinator and Chapman Institute of Theology (CIT) Thailand Director. She received her Post-Graduate Certificate. Also, Joanna Jean Gunda, one of our missionaries in Thailand, received her Graduate Certificate. Other graduates from Cambodia, Fiji, South Korea, Papua New Guinea, and Japan, received their degrees through Zoom.
Rev. Brian Woolery, currently serving as the pastor of Keystone Church of the Nazarene in Okinawa, Japan, received his Doctor of Ministry degree.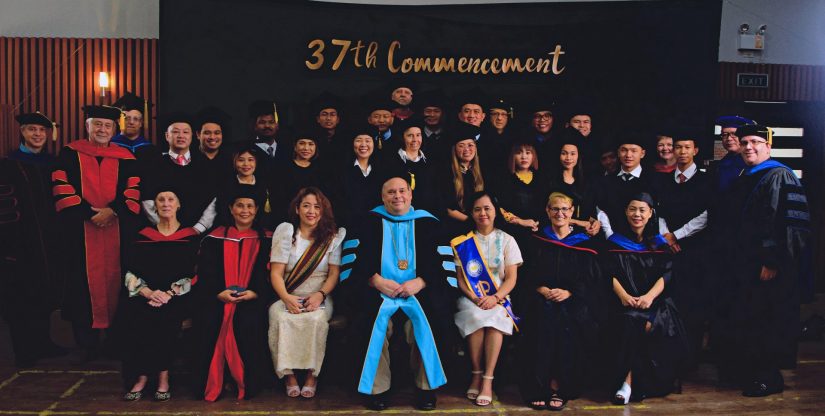 Among the 21 graduates of the class of 2022, six were Filipinos, six were from Myanmar, three from Korea, two from the United States, and one each from Cambodia, Papua New Guinea, Samoa, and CAA. Ten of the twenty-one graduates are Nazarenes. Others represented the Assemblies of God, the Baptist Church, the Church of Christ, the Free Methodist Church, the Presbyterian Church, and independent or non-denominational churches. Ten of the twenty-one graduates are women.
Michelle Cainglet, APNTS' Administrative Assistant, is the first staff member who graduated from APNTS. She received her Master of Arts in Intercultural Studies degree.
I thought having a master's degree would take me forever. Being a mom of two energetic boys, a pastor's wife, a Registrar's Office administrative assistant and being a student would bring me to insanity. But God, in His abundant grace and unfathomable kindness, coupled with understanding APNTS professors, I was able to pass all academic requirements.

With my newly received title after my name (Mrs. Michelle Lorena Cainglet, MAIS), I am thrilled and will always be excited to be called the servant of God, who does what He has called me to do in this life.

Mrs. Michelle Lorena Cainglet, MAIS
APNTS is a partner of the Asia Graduate School of Theology (Philippines) for Doctor of Philosophy degrees. AGST Dean Romer Macalinao presented the Ph.D. diplomas alongside APNTS President Larry Bollinger to Korean Missionary Yun, Ae-sun, whose concentration was in Holistic Child Development, and Marie Joy Pring, a Filipina, whose concentration was in Transformational Development.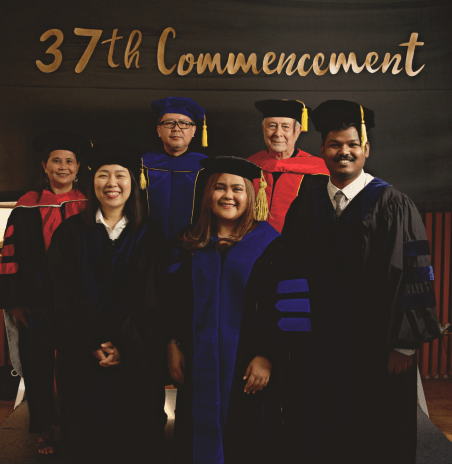 We are so grateful to have Asia-Pacific Nazarene Theological Seminary educate our leaders for Kingdom building. We pray for their ministries as they continue to bridge cultures for Christ.