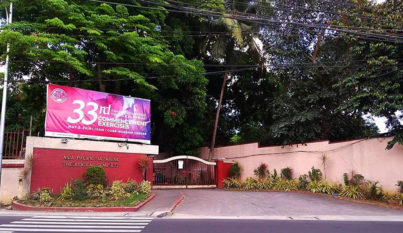 On May 5, 2018, Asia-Pacific Nazarene Theological Seminary performed its commencement exercises. Twenty-five students received their degrees in the ceremony, celebrating the 33rd class to complete their education at APNTS.
The graduates represented ministry students from all over the world. Most of them came from countries in the Asia-Pacific Region, such as the Philippines, Myanmar, and Korea. Still, others represented nations in other regions, such as Ethiopia and the United States.
The graduates also represented a wide variety of degrees. While many of the students completed a Master of Divinity, other degrees included the Master of Science in Theological Education and the Master of Arts in Christian Communication. Of special note was Dr. Aweke Solomon Tadesse, who received a Doctorate of Philosophy, marking the second doctoral degree conferred by APNTS.
The commencement address was delivered by Dr. Catherine Stonehouse, who challenged the graduates to faithfully serve God's kingdom and to use their new tools in their new discipleship contexts.
"Our graduates this year are all talented and passionate. They are one of the best batches we have ever had," said Dr. Dick Eugenio, who at Commencement was announced as the new Academic Dean. "They have been equipped to serve, lead, teach, and disciple, and APNTS is excited for how the Lord will use them throughout the world in the task of kingdom-building."