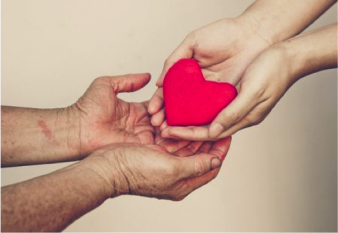 What Is It?
Ah… there it is… that word. We all like to breathe it in deeply – and then release that same breath – and our shoulders relax as we allow even just the idea to wrap us up in something we know we were made for: Grace. What does our study of Strengths have to do with Grace? Plenty! Grace is what ties it all together and Grace is the space where our strengths find their deepest fulfillment.
The CliftonStrengths assessment was originally designed as a tool to increase awareness and to guide development for greater fulfillment and effectiveness. Over the last 10 years, Harmon and I have found it to also be an insightful and creative approach to spiritual formation. Let's explore further…
Why Does It Matter?
When I was attending one of my first Strengths training events, facilitated by Dr. Daryl Johnson, I asked the question, "How do we reconcile all this focus on our strengths with humility? … don't we risk becoming self-absorbed, or self-sufficient?" I'll never forget his answer: "Oh, please hear this! My strengths aren't for me! My strengths are for you! We spent the next moments unpacking this to better understand that my design, my development, and my growth find their ultimate purpose when they reveal something of God to you. And your design, your development, and your growth find their ultimate purpose when they reveal something of God to me. What were your strengths intended to reveal to me about God and in what ways is that actually happening? What is there of God that is showing up in my Strengths?
Harmon and I have experimented with this idea that each of the 34 Strengths Themes can be seen in God – and that God is the ultimate example of what each of the themes was intended to be: nothing less than a gift to the world. These are character traits of himself that he lovingly, creatively places within us in one-of-a-kind combinations that reveal him to each other as he grows and forms himself uniquely in us. How exciting to think of seeing each other as unique revelations of the character of God. Could it be that it takes all of us together in order to fully bear his image?
Here are some examples, using the language of Strengths: God is Activator – he is the God who turns thoughts into action on my behalf. God is Context – he remembers his promises and he calls me to remember who he is. God is Restorative – he has a restoration ending for every story of brokenness. God is WOO, lovingly, persistently pursuing us as his beloved. God is Relator – he walks beside us. God is Belief – he provides a solid foundation for us to safely dance and live out our lives. God is Adaptability – responding sufficiently to every challenge. God is Achiever – he will finish what he set out to do. God is Connectedness – holding everything together. God is Developer – patiently drawing us to the next step. God is Empathy – he understands how we feel. God is Strategic – there is always a way. This is just a start! There are 34 of these themes, each of which provides another way to see God and interact with him.
Strengths-Based Grace for Me: Exploring my strengths through this lens of grace changes how I see myself. When I sit with God and hear his delight in how he created me, how he wants me to know him through the ways I have been fearfully and wonderfully made and how he wants to reveal himself through me to the world, I am filled with wonder and gratitude. I am amazed at the things about him that I am invited to reflect and this moves me to exercise grace with myself as I make space for him to be more fully formed in me.
Strengths-Based Grace for You: It's so easy to notice how we differ from one another. Our natural tendency is often to judge or interpret those differences as flaws. What might change if I humble myself enough to reframe you and your strengths? Especially those that differ from my own as windows intended to reveal something about God to me. Maybe you're working to make space for those strengths to be shaped by him – just as I am hoping he will be doing that in me – and maybe this invites me to be more open to what you can show me about him, that I may never have known any other way.
Get ATR Newsletter directly in Your Inbox
What can we do about it?
• Explore: Learn about your strengths and then take some time to discover what it is about God that shows up only in you! Consider making space for Him to shape your Strengths with this in mind.
• Reframe: Try a new perspective in considering other people in your life. How might the things about them that are most different from you actually call you to a deeper awareness of who God is? How might humility help enhance this perspective?
• Co-create: Dig deep with one another to uncover perspectives on how it might be God's design to only be fully revealed when we bear his image together – for each other and with each other.
• Know Your Strengths: Take the Strengths Finders assessment. Contact me to get a code and instructions, or go to the Gallup website and purchase a code online.
• Get Coached: An experienced and qualified Strengths Coach can partner with you to explore your Strengths as clues to the way God wants to show up in you. There are several people on the Asia-Pacific region who are fully certified to coach in Strengths and are willing to engage in a discovery conversation with you. Contact me to get connected with a coach. Because the Asia Pacific Region prioritizes you and 'Member Care', if you are part of the Asia Pacific Region, this is offered to you at no charge.
Previous articles in the Strengths series: Part 1: The Big Picture, Part 2: Discover Your Energy, Part 3: Powerful Partnerships and Teams, Part 4: Sometimes They Help; Sometimes They Hinder, Part 5: Strengths-Based Stress Management
Resources:
A deeper exploration of each of the 34 Talent Themes: http://coaching.gallup.com/search?q=mastery+monday
http://coaching.gallup.com/search?q=productive+aiming
The Clifton StrengthsFinder Technical Report: Development and Validation
Asia Pacific Strengths Coaches:
Gallup Certified Strengths Coaches: Harmon Schmelzenbach; Cindy Schmelzenbach
Strengths Champion Certified Coaches: Kafoa Muaror; Gail Dooley
Nazarene Strengths Institute Strengths Coach: Ingrid Lustaña
If you are a certified Strengths Coach or are interested in training to become a Strengths Coach and are willing to provide coaching to your Asia Pacific team members, let me know!
Submitted by Cindy Schmelzenbach, Regional Member Care Coordinator