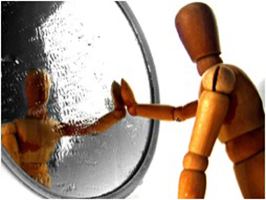 self əˈwernəs/
noun
conscious knowledge of one's own character, feelings, motives, and desires.
What Is it?
"Self-awareness is my ability to accurately perceive my own emotions in the moment and understand my tendencies across situations… my typical reactions to specific events, challenges, and people." (Bradberry, p. 24). We are not talking about self-absorption… a self-focused kind of attention that is unhealthy and leads to a distorted self-image where we either think too much or too little of ourselves. The journey to healthy self-awareness is a humble, faith-filled, partnering-with-God that opens the door to change, correction and authentic growth. "Simply put, to be self-aware is to know yourself as you really are." (Bradberry, p. 60)
Why does It Matter?
Self-awareness is the cornerstone to Emotional Intelligence (EQ). While 95% of people think they are "Self-Aware", in reality, studies show that only about 15% of people actually are, so maybe it's time to slow down and take a closer look at why this is so important.
Get ATR Newsletter directly in Your Inbox
Self-awareness is the first step to transformation, integrity, growth and change. Self-awareness is the only way to do the authentic evaluation that's required if we are going to align our behavior and interactions with our deepest core values and beliefs.
Self-awareness is the first step to self-control (a fruit of the Spirit). Without an awareness of how we are feeling, thinking and behaving, we have no understanding of what it is in us that needs to be brought under control.
Self-awareness opens us up to seeing and understanding how other people are impacted or affected by us. Without this, we go on, potentially hurting people or doing damage when we don't intend to, but never understand what's going on.
Self-awareness protects us from self-deception and unhealthy rationalization. Knowing our weaknesses and blind spots is humbling, but it moves us to a place of allowing truth to be spoken into our lives by those we trust.
Self-awareness leads to better decision-making. As we better understand ourselves and our abilities, we are open to listening to others and inviting their feedback and evaluation. We are better together!
Self-awareness helps us to be open to hearing God's voice. We often experience his guidance, his love, his correction, his warning, his affirmation, in our emotions – he created them! Taking time to better discern our emotions is a great key to learning to listen to God.
"Self-awareness is not about discovering deep, dark secrets or unconscious motivations, but, rather, it comes from developing a straightforward and honest understanding of what makes you tick." (Bradberry, p. 25)
What can we do about it?
Developing self-awareness is not easy and can be a bit uncomfortable. It takes honesty, courage and patience. Here are 7 ways to increase self-awareness:
Ask God to be honest with me. David shows us what this looks like in Psalm 139 – invite God to search you and be willing to hear what he reveals.
Get coached in my Strengths. Strengthsfinders® is the most effective tool I've found for increasing self-awareness. It helps us understand how we are designed by God so we can embrace and live in to what he has created us for. If you'd like more information on being coached in your strengths, contact me.
Lean in to my discomfort. Often we either ignore or avoid uncomfortable emotions, but emotions give us information from which we can learn and make decisions. Becoming aware of our emotions, even those that are uncomfortable, gives us the opportunity to learn from them. What am I feeling? Am I responding intentionally or reacting as if I'm out of control? What does this say about me?
Observe my emotions physically. Where do I feel them? Stress has physiological implications that can be felt throughout our whole body. What are my triggers? What changes as time goes by? How does this affect my thoughts and behavior?
Name my emotions. Am I angry or embarrassed? Am I sad or disappointed? Am I surprised or confused? Here is a list of emotion words to sort through when we're just not sure what we are feeling. Naming is the first step to owning.
Slow down and ask why I do what I do. Is this an automatic or an intentional behavior? Do I even know why I'm doing this?
Do a brief self-awareness inventory: How well do I know the answers to these questions?
What am I good at?
What am I not good at?
What makes me tired?
How much sleep do I need?
What stresses me out?
What relaxes me?
What's my definition of success?
What type of worker am I?
How do I want others to see me?
What makes me sad?
What makes me happy?
What makes me angry?
What type of person do I want to be?
What type of friend do I want to be?
What do I think about myself?
What makes me afraid?
Ask for feedback from a trusted friend or co-worker. Asking someone to share with us about how we are perceived can be a very vulnerable, but valuable conversation to have. Here are some questions to start with:
How am I at maintaining a positive attitude?
Do I exhibit an ability to learn from my mistakes?
Do you feel that I listen openly to others' feedback about my performance?
Do you see me as someone who forgives others when I am wronged?
Do I take responsibility rather than blaming others when things are not going well?
Do I demonstrate a confident but non-threatening nature?
Do I allow others to be open about their frustrations without becoming defensive?
Do I admit when I'm angry?
Do I respond appropriately when others need help?
Do I celebrate and reward accomplishments of others in an appropriate manner?
Do I treat others who challenge me with respect?
References:
Bradberry, Travis. (2009). Emotional Intelligence 2.0. San Diego: Talent Smart https://www.amazon.com/dp/B002U3CBUW/ref=dp-kindle-redirect?_encoding=UTF8&btkr=1
TalentSmart newsletter on Emotional Intelligence and Employee Engagement: http://www.talentsmart.com
-Submitted by: Cindy Schmelzenbach, Member Care Coordinator, Asia-Pacific