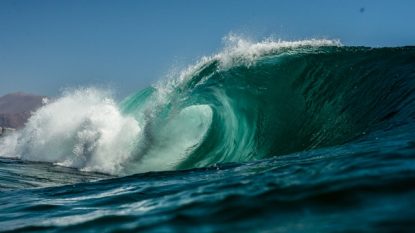 Re·sil·ience \ri-ˈzil-yən(t)s\: the ability to become strong, healthy, or successful again after something bad happens; the ability of something to return to its shape after it has been pulled, stretched, pressed, bent, etc.
What is it? Resilience is that amazing quality about a person… something deep within… that makes them able to withstand all the messes of life and ministry and the world… and they are not shaken.
It's the tree on a cliffside that has this root system that goes…. so…. deep…
and the wind blows….
and the storm comes…
and the tree bends to acknowledge the storm…
and when the storm is gone… the tree stands up tall…again.
I don't know about you, but I could use some of that!
Why does it matter? Without resilience we become rigid, fragile, stiff, inflexible. Our relationships suffer as we place more and more responsibility for our stability on other people, organizations or circumstances. Our mind suffers with the flooding of stress hormones and we lose our ability to think clearly and creatively. We may experience anxiety and depression (Buckwalter, 2011). Eventually, we become ineffective in our calling.
But we aren't the only ones at stake. The world around us is full of people wondering if Jesus has anything real for them; they need to see in us this demonstration of wild hope that stays alive…   No Matter What. They are desperate for a reason to believe in the possibility of recovery, restoration and triumph, in the pain and mess of life.
Get ATR Newsletter directly in Your Inbox
The concept of resilience is getting a lot of press lately. Even secular human-aid organizations have identified it as an essential quality for long-term sustainability. "Resilience determines how quickly we get back to our 'steady state' after the air has been knocked out of us, …when we must push through life circumstances that challenge our very being."  (Buckwalter, 2011)
These are compelling reasons to persevere in our quest for authentic resilience.
What can we do about it? Three core attributes have been identified as essential components of resilience: Strength, Purpose, and Pleasure.  Strength is the general feeling that you are, "equipped to handle both daily life and those challenging moments when you have to dig deeper."  Purpose is the belief, "that you're contributing to the world in a way that helps others, consistent with what is most important to you." Pleasure means that you are able to, "deeply enjoy that which enriches and satisfies you. … having experiences that bring you a deep sense of pleasure is essential."(Buckwalter, 2011)
The good news is that with intentionality and determination, we can take action to build our own resilience:
 Relationships: Resilience dies in isolation, so let's take a look at our relationships; let's identify, and take specific steps, to build and improve trusting, healthy connections with co-workers, friends and family.
Exercise: Intentional exercise has obvious physical benefits that affect our sense of feeling equipped to face the challenges of life. But even more significant is the evidence that the neurological response to physical exercise actually changes the way our brain is shaped; it results in measurable growth of the areas in our brain where resilience lives. (Bosch, 2012)
Purpose: We can intentionally keep our calling in sight. We are all called by the Most High God into partnership with his purpose and plan for the healing of the world. Let's speak about his calling on our lives; write about our purpose; and ask God to reveal his perspective to us and the difference we are making. Let's find ways to keep our life purpose in front of us!
Pleasure: We can intentionally have fun! Healthy pleasure supports positive outlook and actually strengthens the physiological processes that result in improved resilience.  Know what makes you laugh and do it J A merry heart doeth good like a medicine – Proverbs 17:22
Source: Spend some time letting God remind us Who he is – our very source of resilience! "But we have this treasure in jars of clay to show that this all-surpassing power is from God and not from us. We are hard pressed on every side, but not crushed; perplexed, but not in despair; persecuted, but not abandoned; struck down, but not destroyed". (II Cor. 4:7-9) Sounds like resilience to me!
Originally published on February 4, 2016 by Cindy Schmelzenbach, Regional Member Care Coordinator
---
More on resources on resilience:
Bosch, Donald. PhD. (2014) Understanding allostatic load. Retrieved from https://www.youtube.com/watch?v=WJ9DzSzUpio
 Bosch, Donald, PhD. (2012) Resilience is a discipline. Retrieved from http://www.headington-institute.org/files/resilience-is-a-discipline_edited_v2_73341.pdf
Buckwalter, Galen, PhD. (2011) My definition of resilience. Retrieved from http://www.headington-institute.org/files/resiliencedefinition_edited-copy_74370.pdf